By Aniyah Harris, 9 years old
Right now, in June of 2016, there are no monuments to famous African-American women outside on the National Mall. There are some for white men and one Black man and one of Rosa Parks in Statuary Hall in the Capitol.
In the future, at our Bureau of Engraving and Printing there on the National Mall, they will be honoring a Black woman on the money soon. Her name is: HARRIET TUBMAN!
Her image will appear on the front of the new $20 bill.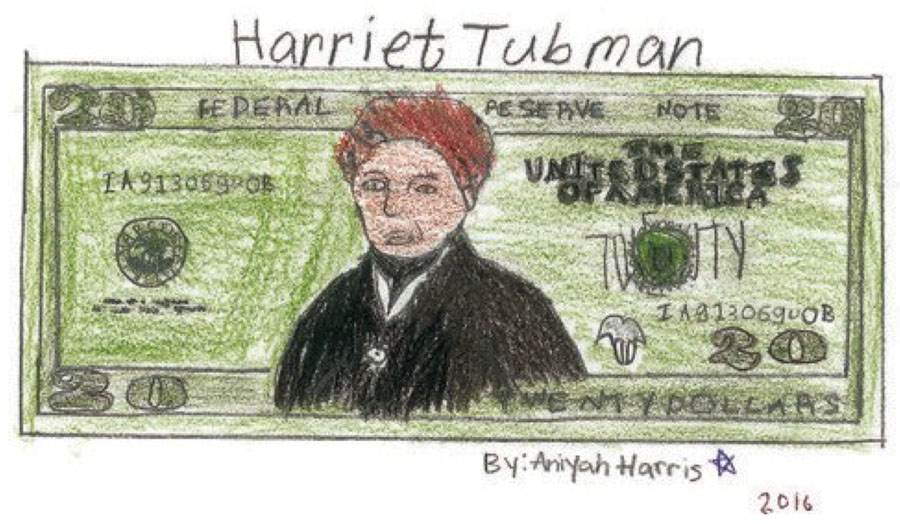 Andrew Jackson will be put on the back, but they should probably just leave him off. President Jackson was a slave owner! They could have picked someone else for the back, like Rosa Parks or Marian Anderson.  Sometime in the future they said they will   put singer Marian Anderson and Martin Luther King, Jr., on the back of the $5 bill, which has President Lincoln on the front. But Harriet Tubman will be first, on the $20bill.
This was announced on Wednesday, April 20, 2016. The bill will be out by 2020 when I will be 14 years old.
Because Harriet Tubman was great, she was chosen to be the first African American to appear on our money. She escaped slavery and saved people from slavery using the Underground Railroad. She also worked for women's voting rights. That's why she is being honored this way. I'm glad that her image is finally going to be used, so she will be the first African-American woman to be on our money!
• Called to the Mall: An Anthology of Stories about the National Mall was a project to teach children how to be active citizens in a democracy. It was created September 25, 2017 by Shining Stars Montessori Academy Public Charter School and sponsored by the National Mall Coalition, of Washington, D.C. The book is now available on iBooks, order your copy now.

Read more stories below
By Mykia Plummer, 9 years old -- There is a statue of Mrs. Rosa Parks in Washington, D.C.
Read More
---
Tags: civil rights, history, Shining Stars Montessori Academy